A custom made word clock in German. Inspired by the QClockTwo but made significantly cheaper by using addressable LEDs and an arduino.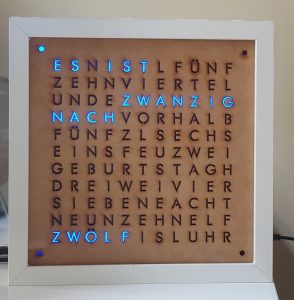 A time module was used to ensure better accuracy across long time periods. The clock also features a light sensor to automatically change the brightness, a temperature sensor to display the current weather and a secret birthday message that will light up on certain days of the year.
Custom button covers were created using a laser cutter and black acrylic.